---
October 2020
Dear Antelope Canyon Families,
School is continuing to go well. It's always exciting to go into each classroom and see each student smiling and attentive to the great lessons and activities going on in the classroom.
We have officially chosen our school mascot, the pronghorn, and our school colors will be decided on soon!
What a great experience to be able to have students and staff choose something that will be lifelong at Antelope Canyon Elementary. We know this will be an experience for students to feel a great connection to their school because they helped establish the mascot and colors - two things that help define a school.
Teachers meet weekly as teams to continue working towards continued growth through interventions and enrichment activities. It's exciting to see the many students participating in the Friday individual and small group support from the teachers. The teachers are pleased with the parent support with this so they are able to work more closely with students and meet their academic needs. Please continue to complete online Friday learning if your student is not participating in that Friday's in-person small group learning.
The School Community Council (SCC) meets throughout the year and helps the school administration approve the School LAND Trust Fund that are state allocated funds to help support schools with programs and academic support that plays a vital role in student success. Antelope Canyon's Trust Land funds in the amount of $54,482 are allocated for. Beverly Taylor Sorenson (BTS) Music Program Certified Teacher, 2 Literacy intervention assistants that will help give additional support to students in reading in grades K-3, 2 STEM assistants that will meet with each class weekly to provide hands-on enrichment activities, and 2 PE assistants. This allows teachers to meet in PLC teams to ensure progressive data analysis to create assessments to ensure student growth.
To ensure the safety of our students and decrease the amount of people on the playground, we do request parents/guardians drop students off at the gated areas of the playground and remain on the outside of the fence. If you have a circumstance that needs a parent to walk a student onto the playground, please contact administration.
October is an exciting month in which we will be holding our PTA fundraiser. The money earned goes directly to the classrooms to benefit the school and students in a variety of ways. PTA Reflections are also due in October with the theme "I Matter Because." This is such a great opportunity for students to show their creative and unique abilities and talents. There will not be a Halloween parade this year, but the classes will hold their individual events, arranged by the teacher and possibly one essential volunteer.
It's been a great first month of school, and this next month will be just as superb! Thank you for all your support and placing your trust in us to teach and love your children!
Life is a treat!
Kristie Howe
Assistant Principal
View the full October newsletter here.
---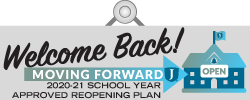 Upcoming Events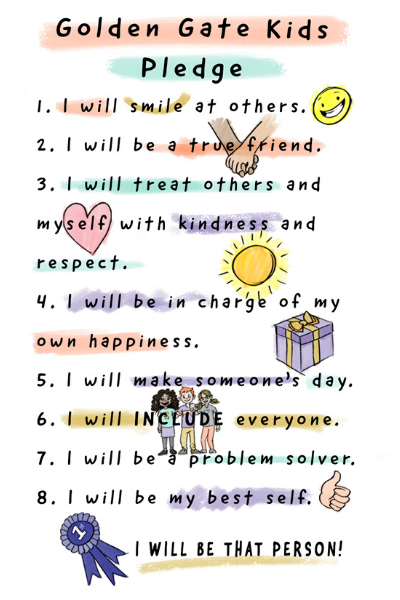 Golden Gate Movement
The pledge statements are taught one per month throughout the year. Parents receive a monthly newsletter explaining the attribute along with a family challenge.
September: What is a pledge?
October: I will smile at others.
November: I will be a true friend.
December: I will trust others and myself with kindness and respect.
January: I will be in charge of my own happiness.
February: I will make someone's day.
March: I will include everyone.
April: I will be a problem solver.
May: I will be my best self.
---
We have made every effort to ensure all links leaving this site are appropriate. Jordan School District and Antelope Canyon Elementary cannot be held responsible for information found on other websites.
---