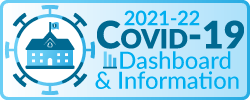 New State COVID-19 Quarantine Guidelines
Updated January 2021
These changes only apply to mask-on-mask school exposures, not household exposures.
Quarantine periods are now 10 days.
If there is a school exposure where both parties were wearing masks, the exposed individual may continue to attend school as long as they are not symptomatic.
Quarantine letters will only be sent to those who had unmasked exposures.
If a school is placed on virtual learning, it will be for a 10-day period, matching the new length of quarantine.
---